In the Metadata section, you have the opportunity to give your potential customers information about the beat. While it's not an absolute necessity to use and fill in all these metadata points, we strongly suggest producers to use them to their advantage. Providing as much information as possible will make it easier for potential customers to find you. You might have exactly what they're looking for, but without providing the right information, they might not find your music when searching for a specific BPM, key, artist type, or genre.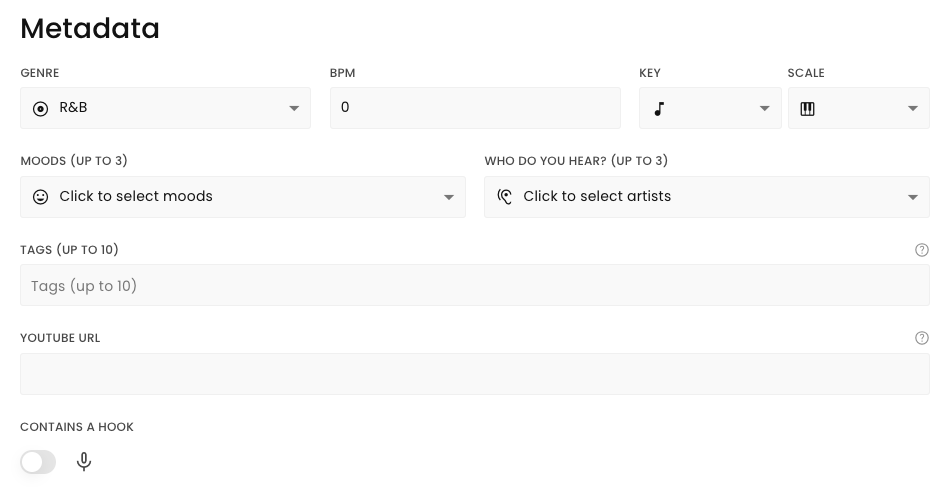 Genre:
Selecting the most suitable genre for your beat is a pivotal step in enhancing its visibility and discoverability on Soundee. To make this process more convenient, we offer a comprehensive dropdown menu that encompasses a wide range of musical genres. While this step is optional, adding genre metadata can significantly help your beat find its audience.
BPM (Beats Per Minute):
The BPM (Beats Per Minute) is a critical aspect of your beat's metadata, defining the tempo of your composition. This allows potential buyers to gauge its rhythm and suitability for their projects.
While Soundee often automatically detects the BPM of uploaded beats that meet the required quality standards, you have the option to manually input this information if needed. Please note that accurate BPM information ensures that your beat is categorized correctly and can be easily discovered by users looking for a specific tempo.
Note: Automatic BPM detection is a feature provided by Soundee, and its accuracy can vary depending on the complexity and quality of the uploaded beat. For the most precise BPM information, manual input is recommended.
Key and Scale:
Understanding the musical key and scale of your beat is essential for both producers and artists seeking the right sound for their projects.
Soundee simplifies this process by offering a user-friendly dropdown menu for indicating the musical key. Additionally, you can specify whether your beat is in a Major or Minor scale. A major scale is often associated with a bright and happy sound, while a minor scale has a more somber and emotional feel. Accurate key and scale information enables users to assess the compatibility of your beat with their creative needs, making it more likely to be chosen for their projects.
By providing these details, you enhance the discoverability and accessibility of your beats on Soundee, ultimately increasing your chances of connecting with the right audience and potential buyers.
Moods:
Expressing the emotional tone of your beats is essential for helping them resonate with potential buyers. In the Moods section, you can select up to three moods that best encapsulate the feelings your beat aims to convey. By doing so, you provide a more profound context for your work, making it easier for artists and creators to discover beats that align with their creative vision.
Simply navigate to 'Moods', select your desired moods, and click on them to add to your beat.
Who do you hear? Adding artists:
Imagine your beats as a canvas for artists to paint their musical stories. To enhance your beats' visibility and align them with artists' sounds, you can add up to three artists whose styles are comparable to your beat.
This feature ensures that your beat will appear in searches for beats resembling a specific artist's style, expanding its potential reach. Moreover, adding artists to your beats increases the likelihood of them being featured in automated playlists that are curated around those artists.
Tags:
Tags are your beats' descriptors, providing valuable insights to potential buyers. Use tags to highlight distinctive qualities, such as tempo, mood, or style, making your beats more discoverable. You can include up to 10 tags by simply typing a keyword and hitting ',' to add it.
Tags serve as quick reference points for users searching for specific attributes in beats, enhancing your beats' accessibility and relevance. Keep in mind that tags are easily editable; you can remove or modify them as needed by clicking the 'X.'
Mastering the art of tagging, mood selection, and artist matching empowers you to present your beats in a way that resonates with your target audience, ultimately boosting your beat sales and connections with artists and creators worldwide.
Youtube URL:
If you've created a captivating YouTube video to complement your beats, it's effortless to enhance the visual experience for your audience when using Soundee.
Simply follow these steps:
While in the Soundee platform, locate the section where you can embed your YouTube video.
Copy the URL of your YouTube video.
Paste the URL into the designated 'YouTube URL' section.
By completing these simple steps, your YouTube video will seamlessly play alongside your beats in the embed player, adding an extra layer of engagement and visual appeal to your website's store player. This enhances the overall experience for your listeners, making it easier to connect with your music and your brand.